What we're talking about today
What's GNU Radio?
A very basic introduction to SDR
A word on hardware
Getting GNU Radio
GNU Radio Companion
Using Python or C++ to write a module
What's GNU Radio?
Free & open source software
Provides signal-processing blocks to build software-defined radios
Works with readily available hardware
Runs on Linux (best), Windows and macOS
Runs on both Intel & ARM (including Raspberry Pi!)
Used in hobby and commercial applications
A very basic introduction to SDR
Uses digital representations of signals
Uses lots of math to implement things like modulation & filters
Sampling a signal
Analog signals sampled periodically
Sample rates should be at least twice maximum frequency (Nyquist theorem)
Sampling a signal

Sampling a signal - things to look out for
Tradeoff between sample rate & computing requirements
Tradeoff between cost, sample rate, and sample resolution
Aliasing
A word on sampling
More samples mean more expensive A/D converters
More samples means more computing power to process the samples
Faster sampling means higher cost
A word on resolution
The number of discrete steps measurable in the range of a signal
Higher resolution generally means higher cost A/D converters
Sometimes a lower noise lower-resolution A/D is better than a higher resolution A/D!
Aliasing in sampling

Aliasing in the frequency domain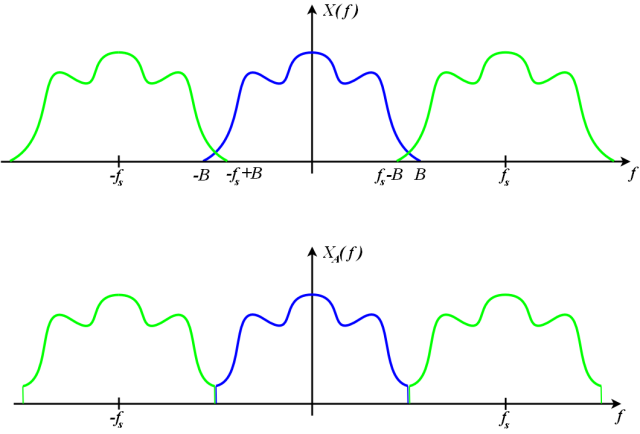 Digital Filtering
Math!
Uses signal processing on the digitally sampled signal
Requires fast processsing for additions & multiplications
Digital filters can often create far steeper cutoffs for the same component cost
Modulation & demodulation
More math!
AM can be accomplished multiplying the carrier by the audio signal
BPSK can be accomplished by changing the phase of the carrier
Other modulations possible, too!
Block diagram of a typical SDR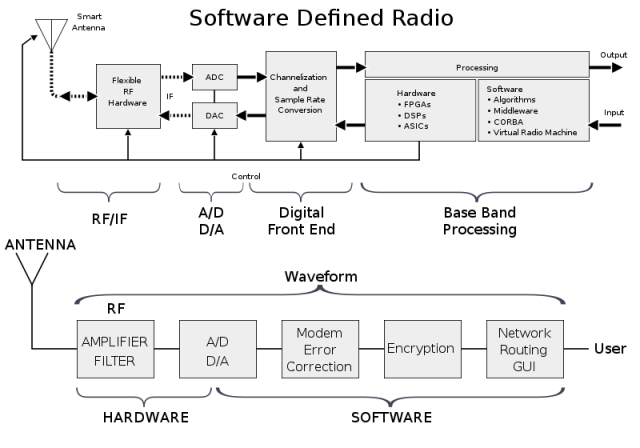 A word on hardware
You need a moderately fast PC or Raspberry Pi running Linux, Windows, or macOS
For RF experiments, you need some sort of SDR hardware
RTL-SDR is a cheap receiver (check the raffle table!)
hackRF is a popular transceiver
LimeSDR is another newer transceiver
Lots of other choices; just check for GNU Radio compatibility first
What does GNU Radio give me?
Over 400 DSP blocks, including filters, modulators, demodulators, visualization tools
Flow-based construction of radios & subsystems
The ability to add new blocks with code in Python or C++
Getting GNU Radio
On Linux, use your package manager
On Windows, use an installer
On macOS, use MacPorts
You can also build from the source code
See the GNU Radio Wiki for more details
GNU Radio Companion
Drag and drop construction of SDRs using modules
Uses a data-flow paradigm for connecting modules
Provides controls and visualization tools
Modeling SDRs using data flow diagrams
Radio components connected by signal paths
Each signal is a stream of numbers
Modules transform the number streams in some way
Sources provide data, sinks acccept it
Modules and variables
Most elements of your radio are functional blocks that do something
Variables are named containers that hold numbers (frequencies, sample rates, etc)
Modules get connections, variables just sit there.
Graphical User Interface components
Some sinks display data (e.g., waterfall)
Some GUI controls to set variables (e.g., knobs)
Basic use
Drag and drop modules
Click to create data flow connections
Control-F is your friend (finds modules)
GNU Radio Companion UI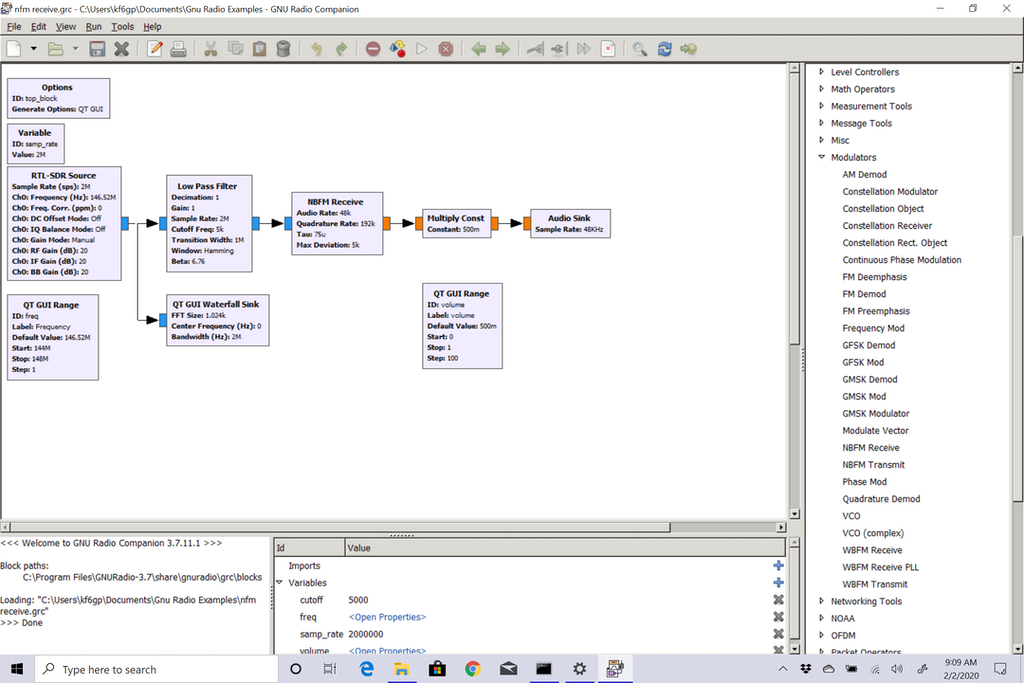 Modules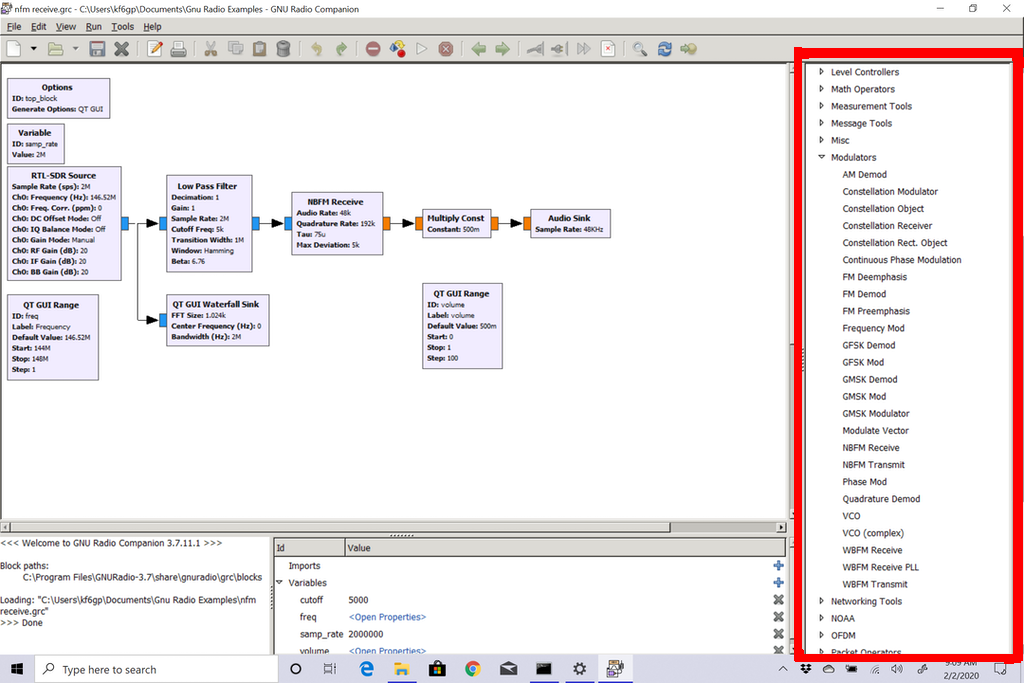 Console & variable inspector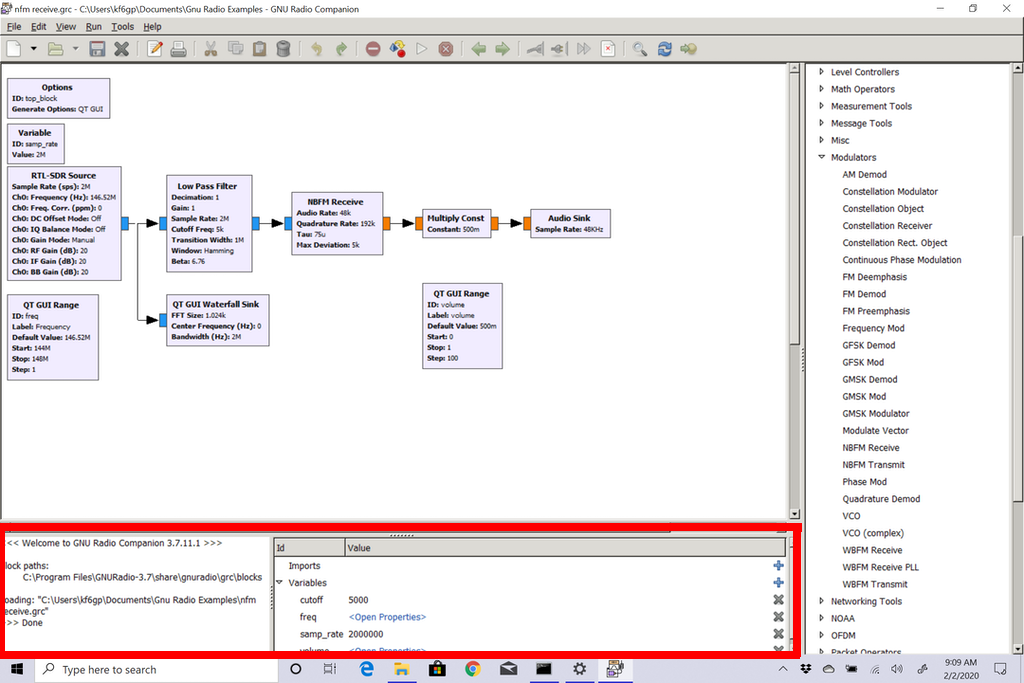 A simple NBFM receiver flow graph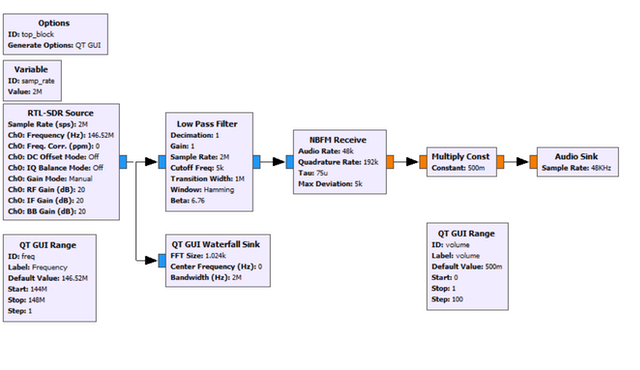 Running the flow graph
First GRC creates a Python file of your flow graph
The Python file uses code from GNU Radio
Then GRC invokes GNU Radio with your Python file
A simple NBFM receiver UI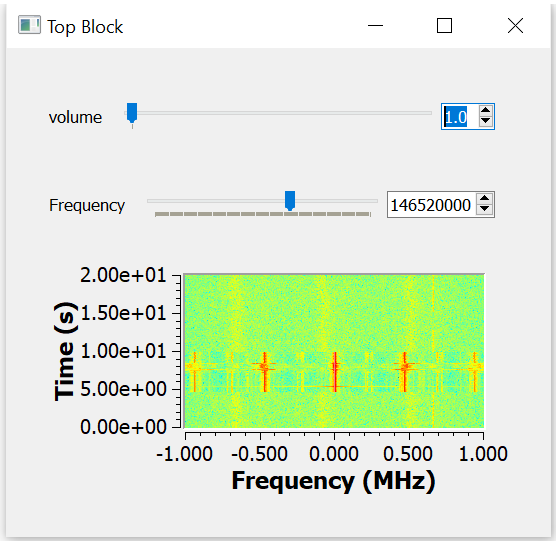 Creating modules & radios
Uses Python or C++.
Define modules using XML
Implement them using Python or C++
Uses the same data-flow paradigm, just in code.
Modules have
An initialization block
A message handler
A work block that does the math
Connecting modules in code
Create the flowgraph in Python or C++
Connect modules using the connect method
Defining the module
Modules require a definition
Definitions are in YAML or XML
This enables GNU Radio to "see" a module
Tips
Work through the tutorial
Look at error messages closely
Windows and macOS ports are flakier than Linux
Get your SDR working with the software that comes with it first.
Resources - Hardware
Resources - Software
Resources - Reading
Recent editions of the ARRL Handbook
"Digital Signal Processing and GNU Radio Companion", QEX July/August 2014