APRS Turns 35. What's Next?
BayCon, 9 February 2019
The Automated Packet Reporting System…
Was developed by Bob Bruniga, WB4APR beginning in 1984
Is a packet format for the exchange telemetry, messages, and position over amateur radio
Uses primarily AFSK ("packet radio") on 2m (144.390 MHz in the US)
Is widely used for tactical work in public service
What can you do?
Share position information with other stations
Obtain local weather conditions
Short text messaging between stations or to SMS or email
Satellite operations through the ISS or cubesats
Then…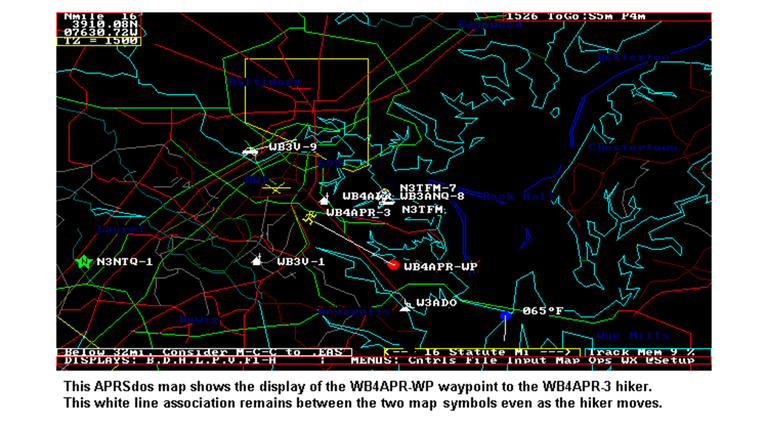 And now!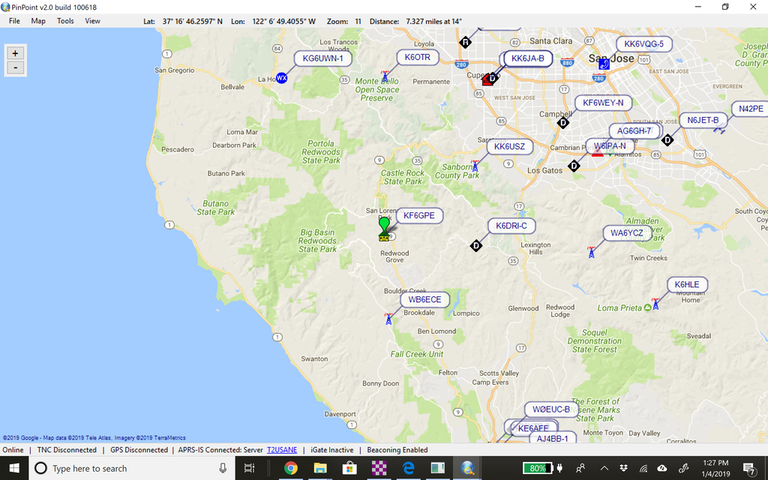 Some portable stations then & now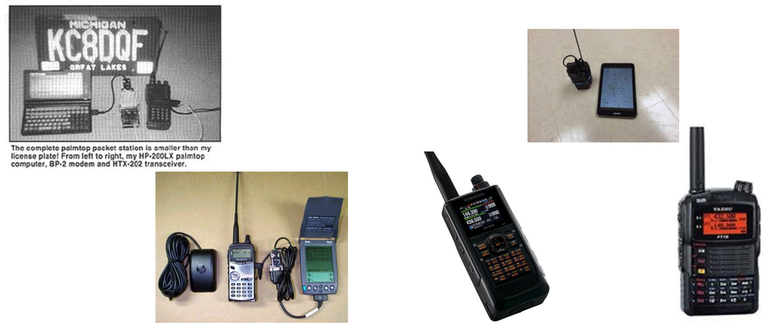 In the field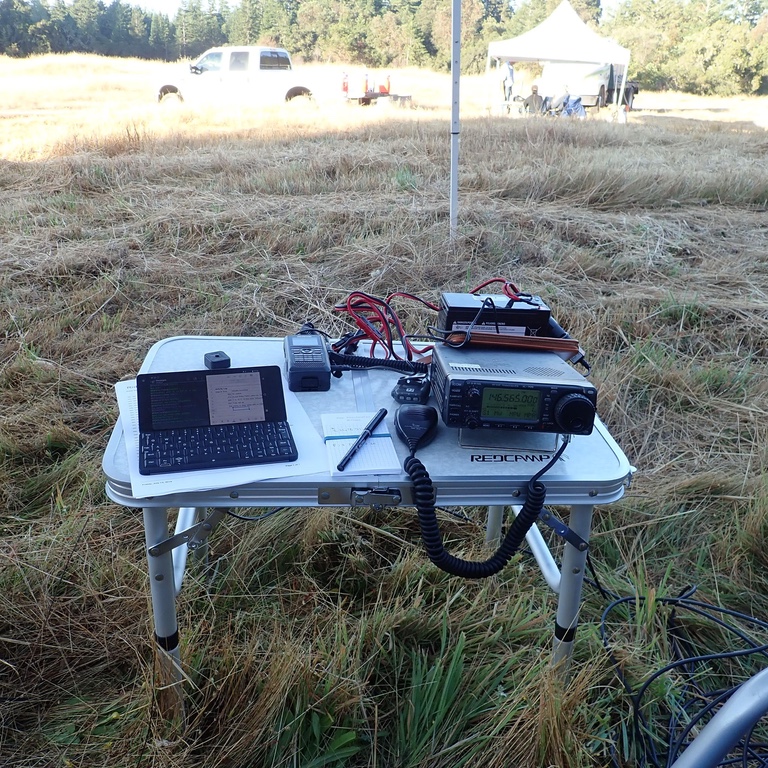 Mobile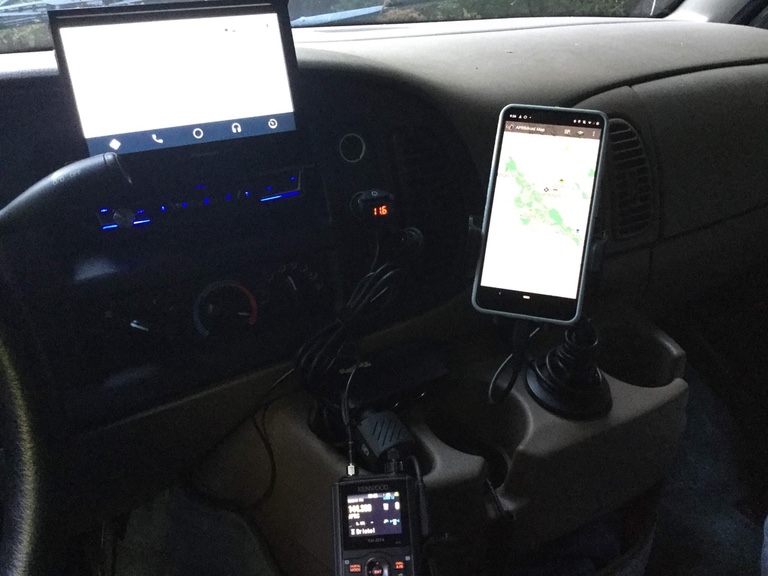 Satellite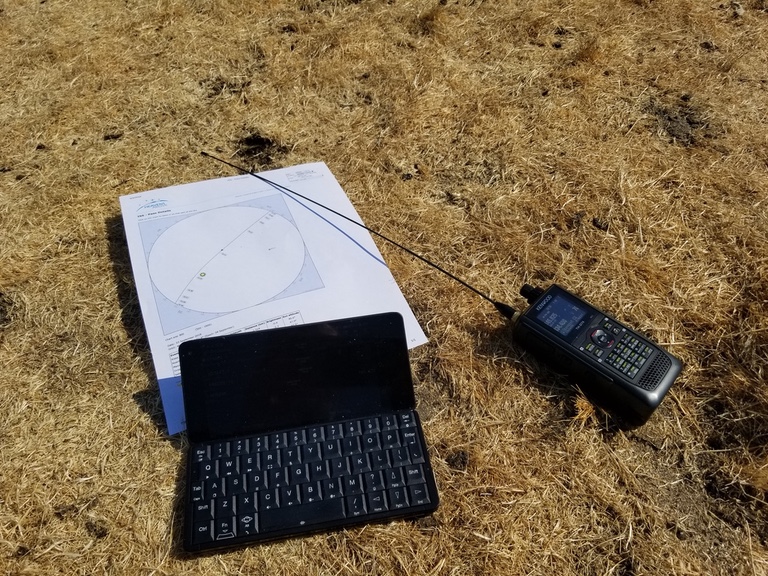 The APRS network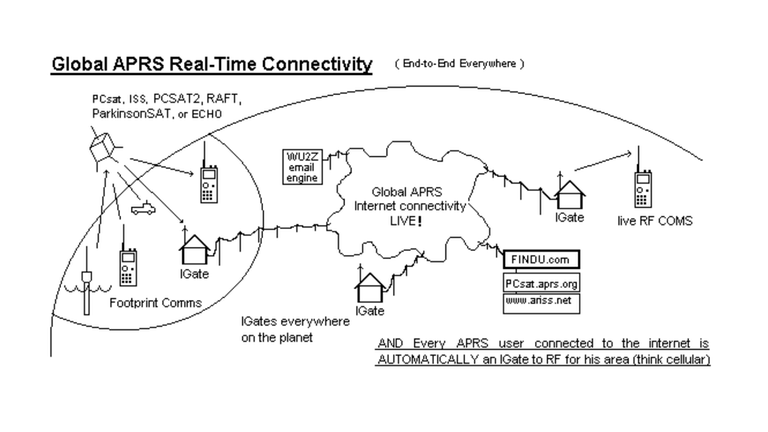 A word about the internet…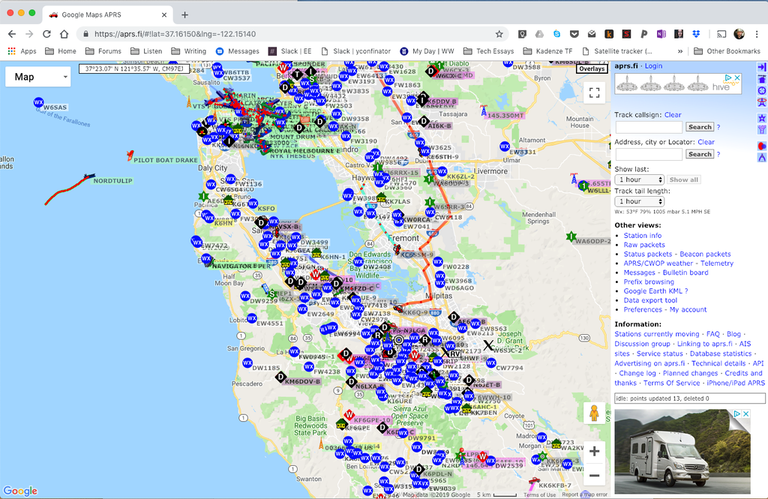 Getting on the air
What you need
Software for Windows, Mac, Linux, iOS or Android
A PC, tablet, or cell phone (portable is fun!)
A 2m radio
TNC or soft modem cable for your radio
(Optional) GPS receiver
Terminology
Callsign - Your callsign
SSID - A unique integer from 1-15 to identify your station
Icon - An icon identifying your station on the map
Digipeater - A station that repeats (digipeats) packets
IGate - A station configured to route packets to (and possibly from) the Internet
Frequencies & APRSIS hostnames
144.390 MHz - National Simplex APRS Frequency
145.825 MHz - Satellite uplink / downlink
rotate.aprs2.net - Picks an appropriate APRSIS server
noam.aprs2.net - APRSIS server for North America
euro.aprs2.net - APRSIS server for Europe
Software
APRSIS32 - Windows, very full featured
PinPoint APRS - Windows, good UI, best for monitoring
YAAC - Java, all platforms, a bit fiddly
APRSdroid - Android
PocketPacket - iOS & Mac OS
aprs.fi (iOS, not the web site)
Older software
You'll see these, don't bother trying with them!
UIView-32
MacAPRS & WinAPRS
javAPRS (for embedding in a Web browser)
Radios
Kenwood TH-D7A, TH-D72A (GPS), TH-D74A (GPS, D-STAR, & Bluetooth)
Kenwood TH-D700, TH-D710
Yaesu VX-8DR, FT1DR, FT2DR, FT3DR
PicoAPRS mini-APRS Transceiver
MicroTrak tracker from Byonics
Any other 2m radio connected to a Mobilinkd Bluetooth TNC
Connecting to the network
Bluetooth
USB (and USB-to-serial)
Sound modem
TCP/IP
Bluetooth
Low-power, wireless protocol for audio and serial
Bluetooth Serial replaces RS-232 or USB serial
Works with some KISS TNCs (Mobilinkd, Kenwood TH-D74A/E)
Great choice for portable with Android smartphones
Can work with Windows, but expect weird problems.
On iOS, only the Mobilinkd v3 works, and only with the aprs.fi app
USB
Serial connections for the new millennium
Some TNCs and radios have USB
Others will require a USB-RS232 adapter
Drivers for USB-RS232 can be fussy!
Works with Windows, Linux, Mac OS X, Android (maybe)
Sound modem
Uses the sound card in your computer or an external adapter like a TigerTronics SignaLink.
PC, Mac and Linux need software (Direwolf, AGWPE, others)
Can be tricky to set up (not all APRS apps work with all sound modem apps)
Sound modems and cell phones
APRSdroid and PocketPacket include sound card modem software!
Just hold your phone next to your radio…
…or make a cable and use VOX
TCP/IP
Used as backhaul to APRSIS
Most APRS clients support this today
Generally does not transmit your telemetry to the RF network.
A great choice for learning on your cell phone!
Setting up
Call sign and SSID
Icon (funky codes abound!)
Digipeater path (stick with WIDE1-1)
It sounds complicated…
But it isn't.
Most apps have a setup wizard. Know your callsign, SSID, passcode, and TNC port before you begin.
Setting up for APRSIS access
You need a callsign and a passcode to transmit on APRSIS.
The passcode is generated from your callsign. It's semi-secret.
You can get the passcode from any APRS software author, or some hams.
Setting up internet gating
You'll need your callsign and passcode (you're accessing APRSIS after all!)
Most APRS applications support Internet Gating; check the settings.
Do not blindly transmit the APRSIS feed to the RF network. You'll swamp the channel!
Messaging
Address a message to a callsign and send it.
Messages are short - 60 characters or so.
Messages are retried a handful of times with exponential backoff.
Special message recipients
SMSGTE 8885551212 Here's a text message
EMAIL2 kf6gpe@arrl.net Hi via APRS & email!
WXBOT
Call to action
Install APRS on your cell phone!
Reach out to me for a passcode.
APRS software links
Sound card modem links
Protocol & implementation links